Not only does the User Interface 19 Conference dive deep into important UX topics, we'll also give you a special designer's toolkit when you register by July 3.
Get Your Free Designer's Toolkit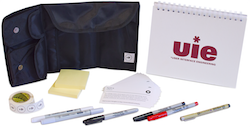 Iterate and share your thoughts in physical
form with your team
Capture all your awesome ideas during and
after the conference
Avoid the time drain that digital tools cause
when trying to create quick sketches and prototypes
Register by 7/3 for this free designer's tool kit
At UI19 you'll choose from 8 different daylong workshops on advanced design processes, flexible team–based techniques, and multi–device solutions. Plus you'll have a full day of 90-minute presentations to hear from workshop leaders you didn't choose. Three days you shouldn't miss.